Cement tiles: where to use them and how to match them
From Sicilian cement tiles to very special concrete formats that are rediscovered through unusual colors. Lots of proposals and ideas for coating your indoor and outdoor interiors. Here you can find Cement Tiles: how to use them and how to match them.
Cement tiles were born in the late nineteenth century under the impulse of the industrial revolution and the spread of large cities that saw the building of entire new neighborhoods with a popular vocation.
In this context, cement tiles, also known as pastine or cement pots, proved to be the perfect material for decorating rooms and granting even the lower classes the possibility of living in a space where the humility of finishes and furnishings was redeemed by the beauty of visually striking geometric and floral patterns.
After a period of brief oblivion, the aesthetic potential of this material has come back to capture the attention of architects and interior designers, who today do not fail to put this material at the center of their projects, capable of marrying elegantly with situations of all kinds, both modern and vintage.
To learn more, don't miss the article The Cement tiles of Fangorosa.
Cement tiles are an aesthetically valuable coating and, thanks to their ability to adapt to different styles, they allow great flexibility of use and freedom of expression from interior environments.
Particularly from Fangorosa's shop it is possible to explore and discover cement tiles of different format, color and style, the result of research and experimentation in which several Italian designers have collaborated: new proposals such as, for example, the Sicilian Zagara collections with geometric decoration and Sicano solid color in 20 colors and formats of various sizes , finally the Roman concrete hexagons.
Historically, the Mediterranean basin boasts an important tradition in cement processing. For this reason, Fangorosa decided to draw on this world to design its collections and, in particular, on a Sicilian reality that still works this material respecting the peculiar traditions that have developed in the area that includes Spain, Morocco and Tunisia. This is how the Sicano and Zagara collections were born.
In this context we want to focus on the aesthetic, decorative and, above all, chromatic potential that Sicilian cement tiles are able to express in different rooms of the home. In each collection the classic shades such as white, black, brick red are overcome and greens, blues and desaturated, dusty Mediterranean colors that recall the land of origin are inserted.
Soft colors and shaded surfaces that make the cement tiles suitable for interior environments by transmitting emotionality thanks to the effect of the tones obtained from natural drying.
Same effects can be reproduced in an outdoor environment by using Sicilian cement tiles to decorate a terrace and a garden. Remember, however, that they are not frost-resistant and it is not recommended to use them in places and spaces where the temperature drops below zero.
As for formats in the tradition of cement we find the hexagon and the square that allow you to recreate decorations with monochrome cement tiles. In this case Fangorosa has innovated production by making a 46-sided Hexagon that is poured and dried naturally. To enhance its aesthetic characteristics we suggest its use in large rooms where it is possible to enjoy the format in its entirety.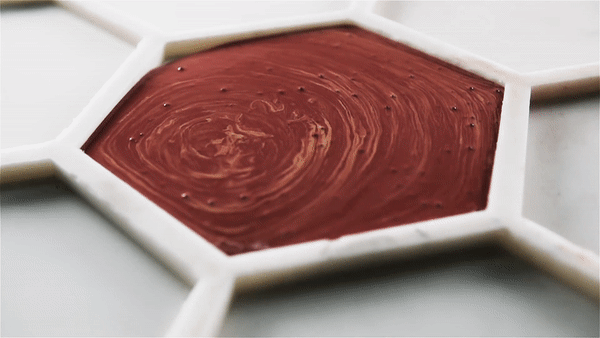 Fangorosa's journey of discovery and research has led to a 2.0 craftsmanship that applies the most advanced technologies to the most classic of traditions, that of concrete, a declination of the most important and popular materials in the culture of coatings.
Concrete vibrated and cast in silicone molds made with the 3d printer allows for great creative freedom. Thanks to the technology that is accompanies the design and production of this product, it is possible to create custom RALs and color scales.
The choice of shades that the Fangorosa shop offers for the surfaces of your indoor and outdoor environments varies. They range from the most classic colors such as blackish gray, a symbol of the industrial revolution and a protagonist of modernity, to salmon red, which with its soft shades recalls the sunset over a metropolis.
Here are all the colors:
Grays (blackish, traffic)
Blues (bright, pastel)
Greens (pale, fir, pine)
Reds (salmon, oxide)
Yellow ochre
The options for matching the furniture and surfaces of a room with cement tiles are many. They can be combined with so many styles and therefore find a place in different contexts. The combination with a parquet floor, for example, is perfect for recreating a warm and vintage atmosphere.
However, we must not forget the choice of color in environments, read on to learn more…
Color, in decorating, is essential as it influences spaces and the way we experience them.
When choosing colors, it is necessary to take into account aspects such as the distribution of light in the room, the size, the use we make of it (for example, whether it is a bedroom or a living area).
Finally, the choice is also influenced by the direction of the house:
In the north, natural lighting will be less, which is why warm colors are preferable
In the south, neutral or cool colors can be used
In the east it is best to choose light shades
In the west a cool palette
The range of choices is really wide, but if you want to learn more about this topic, don't miss the "PLAYROOM WITH" event, a break where together with CMF designer Olga Salvoni, we will discuss colors, materials and finishes.
Follow us on our Instagram page so you don't miss updates and events we will be organizing.