Umbrian Terracotta by Marialaura Irvine: FUTURUSTIC
Futurustic is a new collection of Fangorosa's Umbrian Terracotta, design by Marialaura Irvine from Studio Irvine. A project that enhances matter and nature's creative force.
Contaminations, alchemies and surprising solutions that create bridges and connect distant worlds. The history of design is all about new paths, happy detours that mix tradition with contemporaneity and lead us to admire new solutions. It happens as much in the sphere of product as in the world of materials and surfaces. A synthesis between old and new is achieved when the creativity of designers meets materials with a millennial history, anchored to a specific canon but still rich in expressive possibilities. One of these is Umbrian terracotta, which has covered the surfaces of country houses and rustic environments since time immemorial and which today lends itself to become the protagonist of new design visions.
Umbrian terracotta is reviewed and thought of in a contemporary key,
juxtaposing different colors,
shortening the joints
choosing new and particular forms
Milan Design Week 2022 was the chance to launch the first result of the collaboration between Studio Irvine and Fangorosa. The comparison and dialogue between the two realities, joined by intense research on matter and the process of transformation, had resulted in the creation of three two-dimensional vases made of Lombard terracotta, in the 3 variegated colors (red and white, black and white, red and black). Named after three Italian volcanoes – Etna, Stromboli, and Vesuvius, the three vases are distinguished by organic silhouettes, lava patterns, and an aesthetic that makes beauty and imperfection coincide.
Futurustic, on the other hand, is the new collection with which architect Marialaura Irvine has interpreted Umbrian terracotta by enhancing the material as a living element, unpredictable and never the same. The Umbrian terracotta wall tile series, which includes three distinct formats with different color variations, plays on the transformation and creative power of nature.
Included in each tile is an element, for the "Passeggiata" line, Pine Needles from the Isle of Capri, which burn during firing and disappear, leaving a distinctive mark. An imprint, a trace that during laying can be filled with grout creating an irregular and unique design for each piece.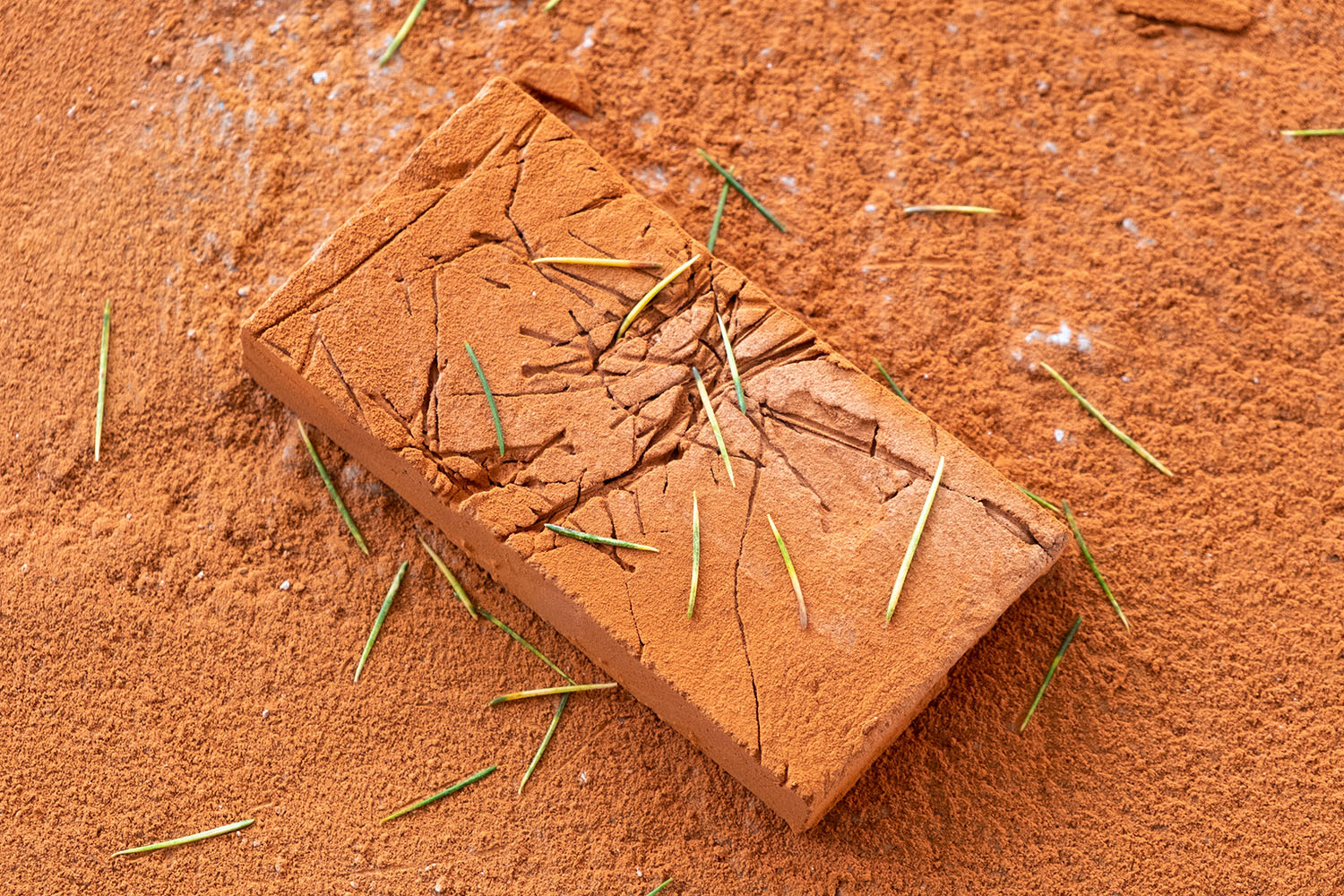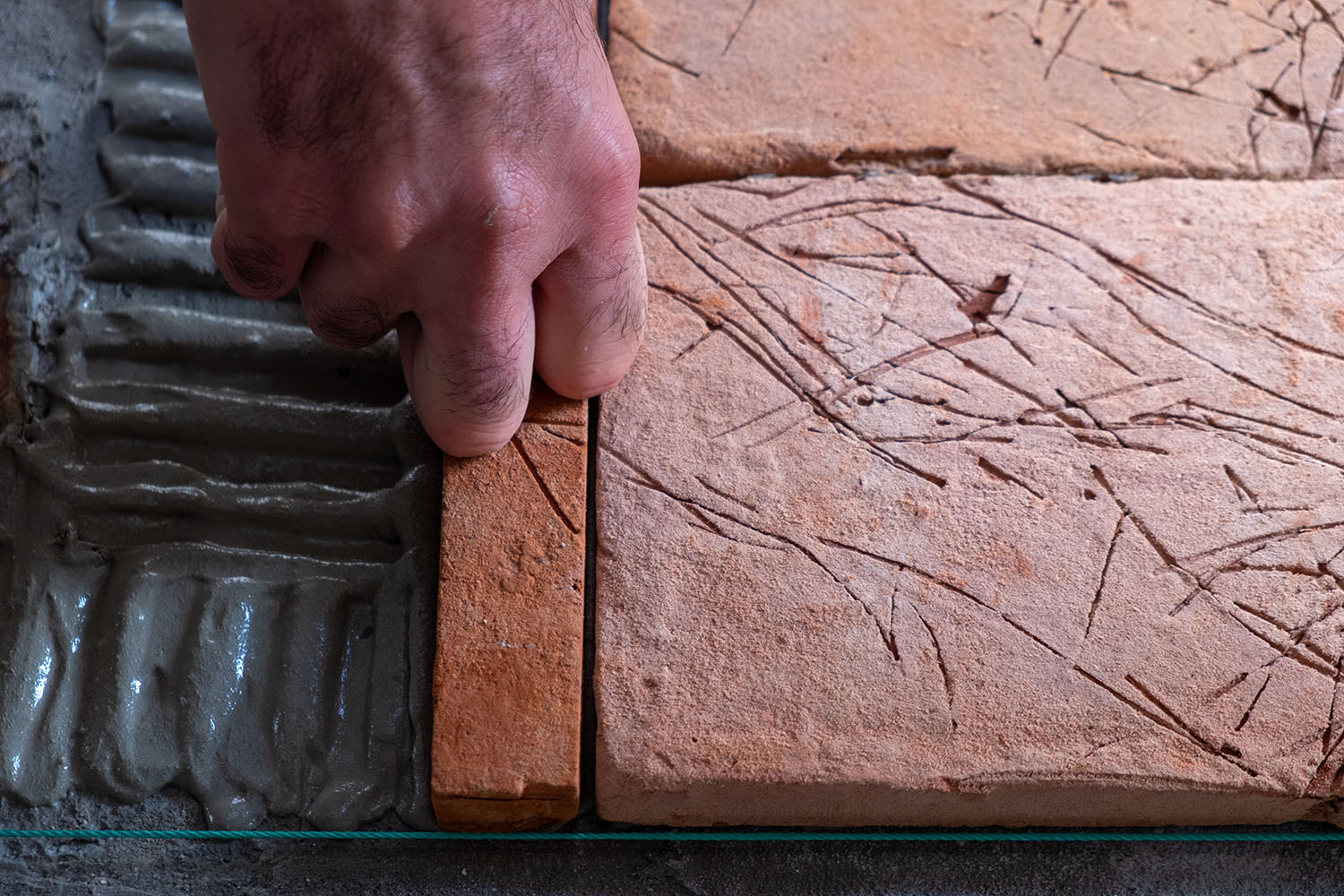 The collection "Passeggiata" , so called because it was born from a walk in the pine forest of Capri, is available in two colors:
The formats, on the other hand, are mainly 3:
Rectangle 15×30
Cigar 3×30
Lath 3×10
A "Combo" product is also available, in which there are, in the two colors:
4 Rectangles 15X30
2 Cigars 3×30
The Futurustic collection is made from Umbrian Terracotta, which is why it is treated with our Terracotta Interior or Terracotta Outdoor kits.
The Umbrian Terracotta care kits consist of four steps:
Pretreatment
Washing
Treatment
Finishing
To learn more about terracotta treatment, don't miss the article "How to Treat Terracotta Surfaces."
For the maintenance of Umbrian terracotta choose "Fangorosa Soap", a natural and sustainable detergent with a sanitizing and shining action, useful for preventing mold, bacteria and germs.
Not to miss all the updates follow us on Instagram.