How to treat terracotta surfaces
Cotto is difficult to handle, maintain and clean-a false myth. 
As we shall see, thanks to the terracotta kit designed by Fangorosa, a few simple operations are sufficient to maintain and preserve the integrity and beauty of this ancient and fascinating material, ideal for both indoor and outdoor flooring. 
The rediscovery of terracotta
Elegant, versatile and timeless. It is cotto, the oldest building material in human history. Over the centuries it has established itself for its undeniable beauty and naturalness. Properties and characteristics that are echoed in the artistic and architectural legacy that numerous civilizations, starting with the Etruscans, have left behind by creating all sorts of works, structures, flooring and artifacts through this material. 
Cotto has been rediscovered in all its potential and today it is returning to inhabit our environments, transmitting that warmth, that sense of protection, that intimacy that each of us connects to the domestic hearth. A material of inexhaustible charm, which has the power and magic to bring us back to that ethereal dimension we call home.
Why does terracotta need to be treated?
With its many shapes, shades and veins, terracotta ignites the imagination, projects domestic scenarios in the mind that one wants to achieve and realize. Then a single thought, is enough to interrupt the spell, to take oxygen away from the project. Blame it on the cliché that dismisses it as a material vulnerable to external agents and difficult to handle-a false myth that it is time to dispel.
Terracotta is a natural, porous material and as such must be treated. When a substance, even the most innocuous and everyday such as oil and coffee, comes into contact with its surface, it risks becoming irreparably stained. At the same time, terracotta like any material is subject to natural degradation determined by different factors such as continuous trampling or the possible proliferation of mold. Neutralizing them without excessive cost and effort is possible.
It is therefore necessary for the terracotta to be treated to:
– keep the terracotta surface intact,
– preserve it in its natural beauty
– avert the occurrence of any stains
For this, it is sufficient to carry out, at the laying stage, an ad hoc treatment, designed to preserve the material from possible damage and ensure easy and effective maintenance over time.
Fangorosa's kits for the treatment of terracotta
The staff of Fangorosa, the first ecommerce in Italy dedicated to the sale of Italian handcrafted surfaces, has studied a sustainable treatment that allows to maintain, preserve and highlight the characteristics of cotto in terms of color and technique. 
Specifically, it has created two kits , one for outdoor floors and the other for indoor floors laid on dry, flat and compact screed. Both contain four products to be applied separately in four separate steps. 
The Terracotta Kit for Interior:
– PART A : Pre-treatment
– PART B : Washing
– PART C : Treatment
– PART D : Finishing
– PART A : Pre-treatment 
– PART B : Washing
– PART C : Treatment
– PART D : Finishing
The composition of the kits is almost identical, differing only in the different type of wax involved in the outdoor kit. In this case, the wax is designed to protect the material from mold that can be present outdoors and created in very humid environments. For this reason, the outdoor kit is also ideal for environments such as the bathroom and kitchen. 
Learn in more detail about the four treatment steps for your waterproofed and toned terracotta floors.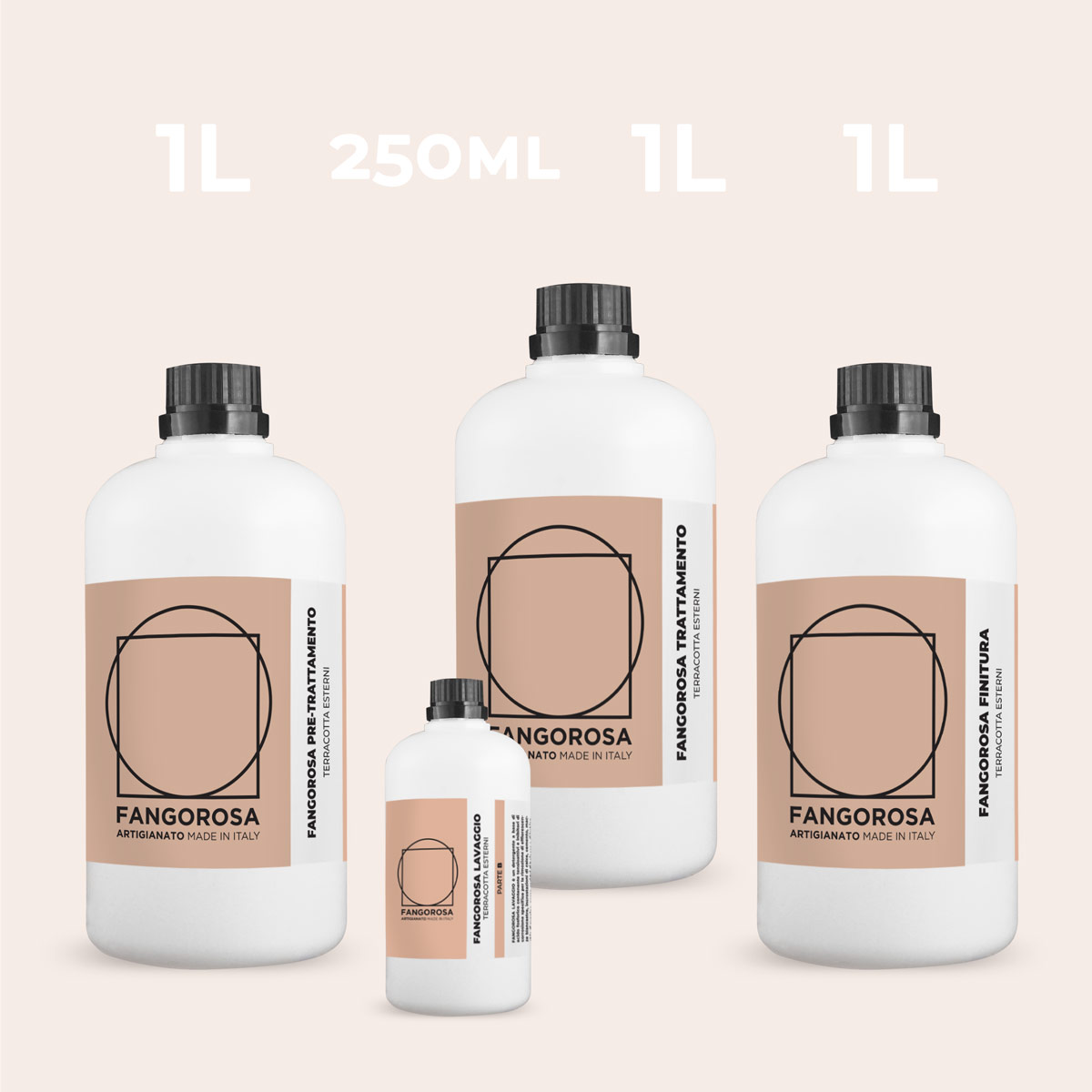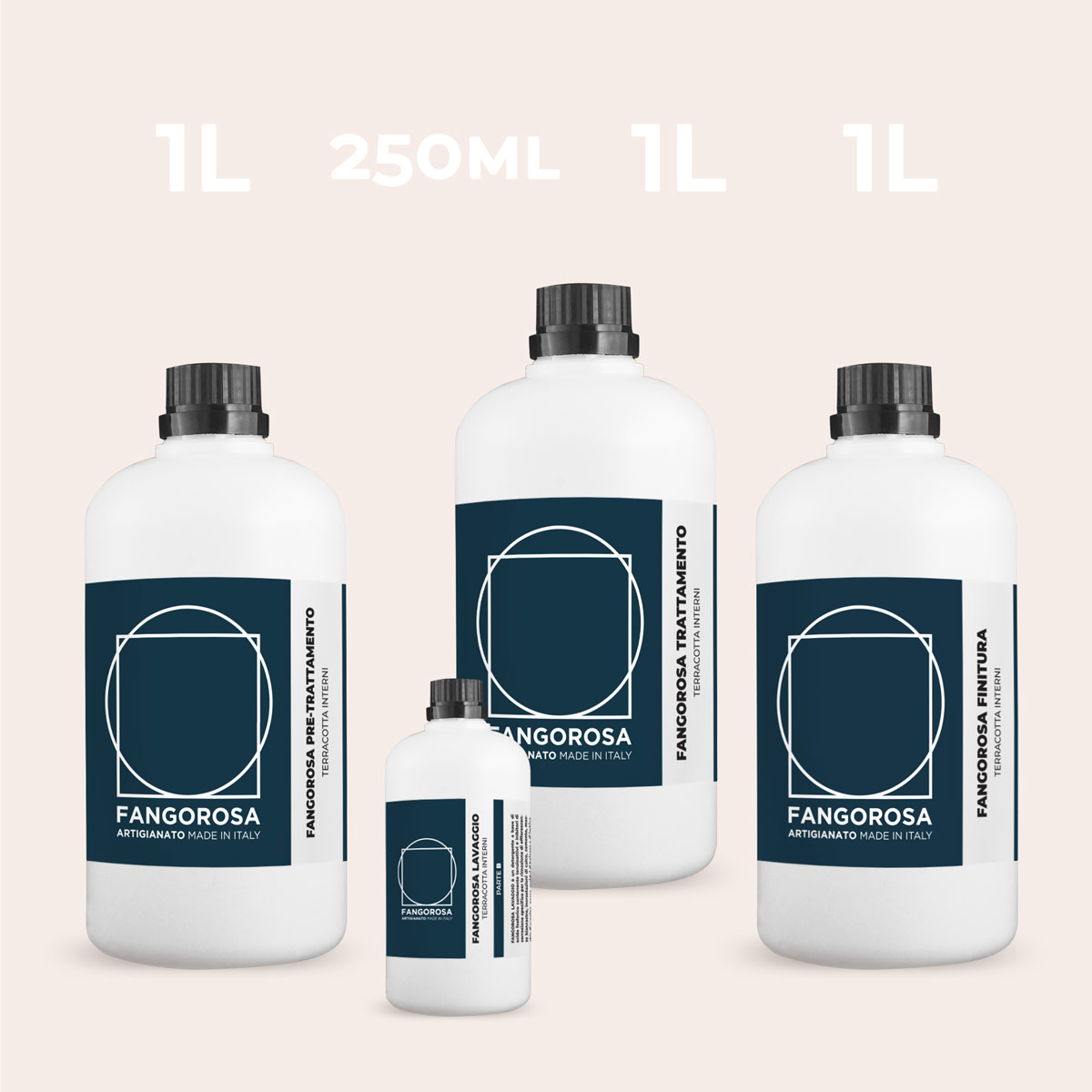 The steps of terracotta treatment in details
Whether for indoor or outdoor floors, the operations that installers are called upon to perform in order to carry out terracotta treatment are identical and consist of four stages. Let's see which ones:
Pre-treatment: it aims to make the cotto water-oil repellent in the stage after laying and before grouting. In this way the cotto is not in danger of losing its natural color and is protected from all the dirt from the construction site and grouting. 
Washing: an acid is used to remove all yard residue and also surface grout whose removal requires a tool more powerful than water.
Treatment: The third phase, the treatment phase, aims to make the terracotta hydro-oil repellent and consequently also the cementitious joint.
Finishing: The final part of the kit is the wax, what differentiates the terracotta kit between interior and exterior. In fact, the one for exteriors is antifouling and therefore prevents moss or lichen from growing in the material, and it is also toning and helps to create shading in the terracotta. 
Thanks to this wax, the terracotta treated with this kit can also be used as a backsplash for the kitchen and in rooms such as bathrooms and especially shower interiors.
The treatment, as explained, needs to be applied only once at the laying stage. Thereafter, the maintenance activity includes only finishing and then applying the wax once a year. 
Why to prefer Fangorosa's treatments.
Fangorosa's treatments are characterized by sustainability in that they are natural and made from water.
Finally, the Your Terracotta Kit comes with a data sheet explaining its features and instructions for use in four simple steps.
To make sure you don't miss all the content on the terracotta and treatment kits, follow us on Instagram as well