Fangorosa the first e-commerce of Italian surfaces and tiles celebrates two years.
The job of artisans named "fornaciari"
It is necessary to totally believe in a project to make it come to life in 2020.
And have courage, what Gianluca Perrone didn't lack, who founded Fangorosa two years ago, on March 30, 2020.
It is a start up that recovers the traditions of Italian craftsmanship, handed down from family to family and born in areas where the culture of the product is very large but in an analog form. Fangorosa is looking for the best artisans to build a path together, enhance their products and create new ones, respecting their culture with a modern aesthetic. "Only by mixing the sweat and toil of an artisan's hands with the aesthetics of innovation could Fangorosa be born" – says Gianluca – " Mud, dirty and primordial, blends with pink giving life to a concept of continuity and evolution".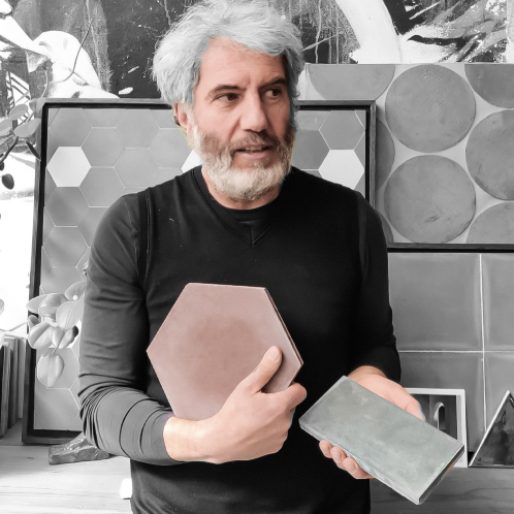 Gianluca, when and how did the idea of creating Fangorosa come about?
The idea for Fangorosa stems from my daily professional life.
I have been working for more than 30 years in the field of surfaces and coating materials. Craftsmen have always been my main partners. Four years ago, with my company – Stepping Stone – we felt the desire to break out of the mold and to differentiate ourselves from other showrooms, we chose to deepen our knowledge and collaboration with those who I consider artisans a MADE IN ITALY heritage. The added value of collaborating with them allows me a continuous experimentation.
Fangorosa took its first step in the spring of 2020, a time when most people couldn't wait to get outside, but the focus was on improving the indoor environment.
How many artisans are participating in the project?
There isn't an exact number, because in this journey the relationship: one material = one artisan doesn't apply. Behind each product there are different professional skills. Inside a classic terracotta tile, there is not a single expertise of a single craftsman, but there are multiple experiences in the process of firing, printing and cooling.
So you start with the materials, terracotta, marble, concrete and Sicilian cement, and multiply them by the specialized skills for each. And a world of knowledge and crafts opens up to you.
What are the needs of the client who turns to Fangorosa?
The Fangorosa community unites professionals, architects, interior designers and enthusiasts with a wide culture of surfaces. For them Fangorosa wants to be a tool to feed new points of view on tradition and help them in the realization of their projects. We turn to a curious user, a lover of beauty, the value of tradition and history that an object shows beyond the purely practical-aesthetic connotation. I believe in the simplicity that lies at the origin of things and products. That simplicity that is not afraid of time and that in passing on remains contemporary.
In your opinion, what are the biggest obstacles in proposing an artisanal product at a time when the perception of "all and now" is an added value?
The most complex obstacles are people's beliefs. When we talk about surfaces, the primary need is to make them easy to clean and keep them unchanged over time. I believe that the value of a surface is certainly given by the adaptability required by the end user but also by the emotions that the surface itself transmits, and this happens through a simple daily experience such as walking barefoot in the house. If you choose Fangorosa you know that during the waiting time, when you receive your order, there is a craftsman who is producing for you. You know that the surface you choose will be unique because it is impossible to replicate exactly a handmade product. You know that the care of your floor will enhance the signs of time.
Future plans for Fangorosa
What is Fangorosa's vision?
Contaminations increase the ability to see what is not yet there. My vision is a continuous journey in search and discovery of what I don't know but that helps me to observe what I don't see yet.
Contact us for more information