The artisans of Fangorosa at work in the furnaces
It is impossible to remain indifferent to the seduction of a terracotta floor covering, in fact, there are so many pleasant sensations that it manages to transmit. The material is naturally fascinating and capable of giving rooms warmth and intimacy.
In order to tell you about this ancient, almost magical artisan tradition, we would like to begin with the craftsmen, those workers who knead and skilfully direct all the activities of a kiln. Yes, because it is precisely in an ancient furnace that Fangorosa's cottos take shape, shaped by hands that hand down knowledge and passion.
Experiencing these workshops means immediately walking through the places of a hard-working community that is not afraid of fatigue and lives on such dedication.
The bricklayer's job and trade
The trade of the kiln worker is lost in the mists of time, so much so that it is still linked to the Solleone festival, celebrated on July 21st, which dates back to ancient Egyptian tradition.
Water and earth were, and still are, the only elements that gave shape to the terracotta; then there was the sun and the wind for natural drying. This is the reason for the festival in the month in which the sun transits in the constellation of Leo. It is also said that at this time of year the Lions abandon their desert dens to head towards the Nile to find refreshment.
Everything originates in the quarry, where artisans extract the clay. Once collected, it is laid out on the cretar, the open-air forecourt. Here water, frost and sun are the first artisans of the process and the clay undergoes its first transformation.
In the kiln, therefore, we meet our craftsmen.
May we ask you a few questions? We meet Danilo who, as he comes towards us, smiles and with his arm hints at the gesture of someone who has to wipe a fatigue from his forehead.
We need people to tell us about ourselves as artisans and our traditions. We live off the culture of the artisan product only if it reaches people, as knowledge and passion. This is because our baked goods must be experienced with the eyes, with the hands and above all with the heart. We bakers are like fairy tales, we exist only if people believe in us. Our cotto has the taste of pause and slowness and we are intimately tied to this know-how. We don't know any others.
How and where does your work and craft cottos originate?
Our craft needs little, primordial elements such as fire, water and earth. I have been working in the kilns for 35 years and I live in Castel Viscardo, a high hill area where we have a certain type of clay. The tradition of cotto is a fundamental part of the culture of this territory and the quality of our clays characterizes our production.
Has modernity made any changes in the stages of processing?
In our workshop, we have embraced modernity only in certain phases to relieve us of work that used to be only seasonal. So today, for example, we have covered spaces that allow us to be active in the winter months.
Manual skill is always at the center of our work, the unique gesture for the realization of terracotta is the foundation of our craftsmanship and it is unthinkable to replace it mechanically.
Are there young people who are passionate about this profession?
It's a rather unusual job and we find little interest from the younger generations. When we were kids, during the summer months, we earned our first pocket money working in the kilns. We called it the Academy of the Furnaces, it was like going to the workshop to learn from the masters and steal as much as we could with our eyes. In those days we took lessons in work and life in equal measure. Of course we encountered fatigue, but it was so much compensated for by the satisfaction.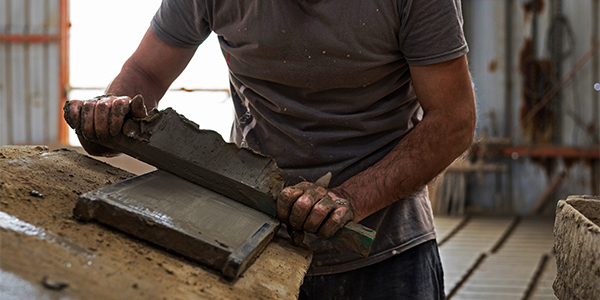 What would you say to a young person who wants to start in this business?
This profession is a lifelong adventure that gets you used to always considering new points of view and evaluating incredible variables. I would start from here and the emotions of knowledge passed down. I wouldn't hide the fatigue, which is implicit in every job that enriches you and where there is never one day like the other. Every day in a kiln we pick up large quantities of material by hand and, if at the end of the day we feel that tiredness, it is always mixed with great satisfaction.
Finally, being a kiln worker means abandoning the idea of thinking individually and becoming part of a team. The furnace is an industrious community where each of us has an indispensable role; everything is connected, and every action implies doing something for ourselves and for others in a continuous spirit of collaboration. We are like a real family that also affectionately gives us a nickname. In the workshop for everyone I am RED, for my fiery and incandescent character.
The furnace is open to everyone, to anyone who wants to get involved in this field.
Contact us for more information