Bathroom Tiles: How to choose and clean them
In the project and creation phase, the choice of materials is always the moment that requires the most effort. Here you will find Fangorosa's suggestions for choosing bathroom tiles, the best materials to make it functional, long-lasting and dreamy.
The bathroom, it cannot be reduced to a transit area, to an essential and practical space. Today, the bathroom is an increasingly central place in people's lives, the scene of a personal routine made up of details, rituals and self-care.
Even before being a room equipped with sanitary facilities and other hygiene tools, the word, from the Latin balneum, means 'immersion in a liquid'. A concept that basically encapsulates the most intimate expectations associated with this room.
Entering the bathroom in fact means immersing oneself and finding a dimension that one hardly has in other places in the home. A place of wellbeing, relaxation, a refuge where we recover energy, rediscover ourselves and sometimes, as if by magic, take hold of improbable but successful solutions that in other contexts we would have struggled to find. This is the bathroom.
In a busy world, in a convulsive everyday life, it occupies an increasingly important space in everyone's home.
How to design it? Read on to find out which materials to choose for flooring and wall covering.
By its nature, the bathroom is a humid space so the choice of materials must take these aspects into consideration with the aim of preventing deterioration.
The materials chosen for the floor must be waterproof but also resistant, especially in the case of utility bathrooms that house such heavy appliances as washing machines and dryers.
Resistant and easily washable must also be the materials to be used in wall coverings. Showers and wash basins can lead to water jets towards the wall and over time this can lead to stains and mould.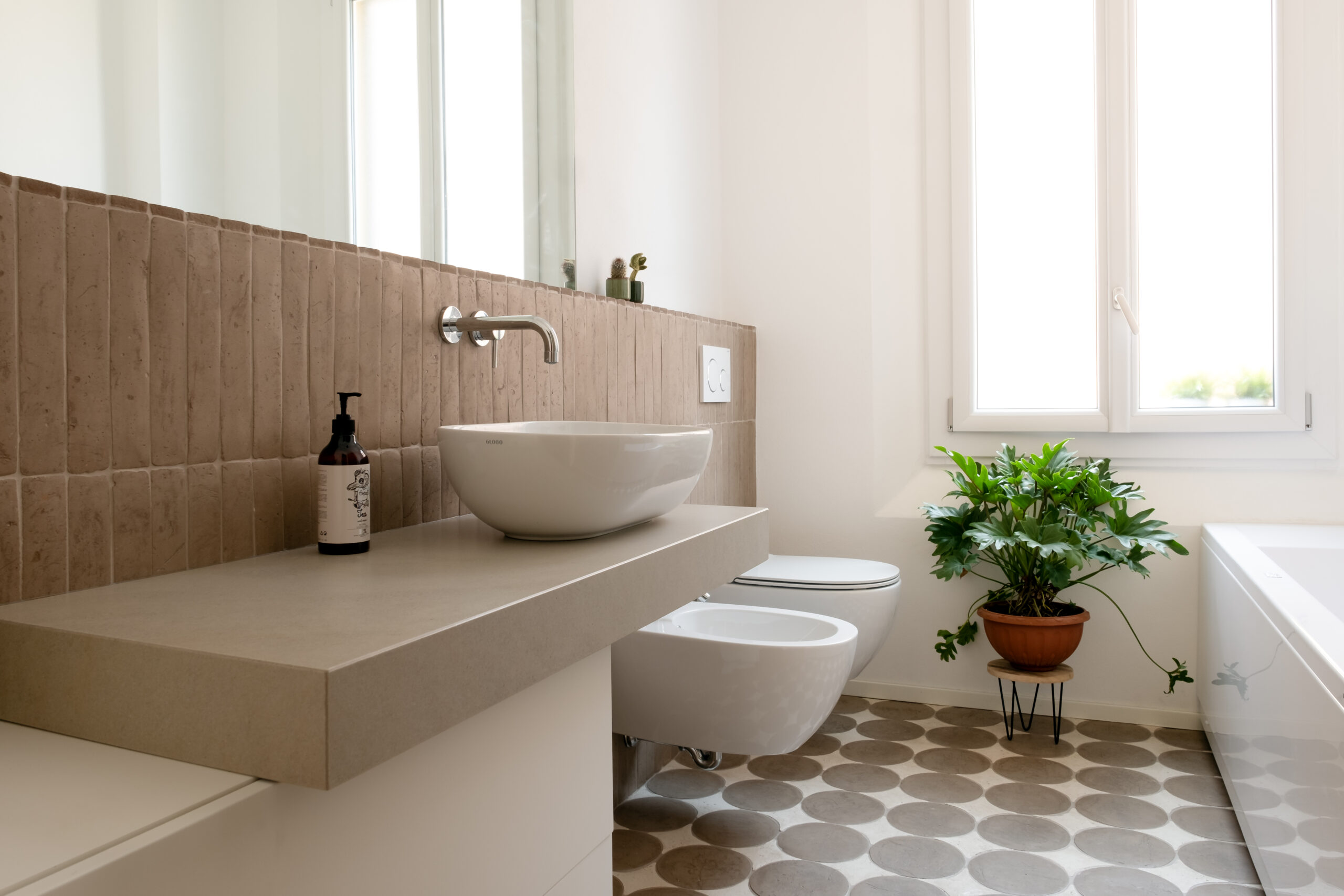 Fangorosa's collections allow various styles to be interpreted, imparting taste and personality to the interior depending on the client's requirements.
Here are tiles our Professional's love:
Much loved and used in professional projects is terracotta, a material that offers structural and aesthetic qualities. Its porosity prevents the absorption of water, while the warm, enveloping tones are ideal for recreating the intimate and relaxing atmosphere that the idea of the bathroom historically brings. A choice made successful and original thanks to the very special Tondo & Stella format that departs from the traditional canons of cotto.
Roman concrete also proves to be an excellent choice for designing a functional and designer bathroom. Traditionally one of the most popular materials, it is extremely resistant and in Fangorosa's reinterpretation recalls elegance and brightness thanks to a hexagonal format (5cm) available in different colour variants.
On the other hand, a classy choice for a refined and attractive bathroom is Carrara marble. Thanks to its brilliance and scenic impact, it gives the room a natural and timeless elegance. Most popular with professionals is the Ottagono & Tozzetto format, a combination that expresses geometric rigour and energy.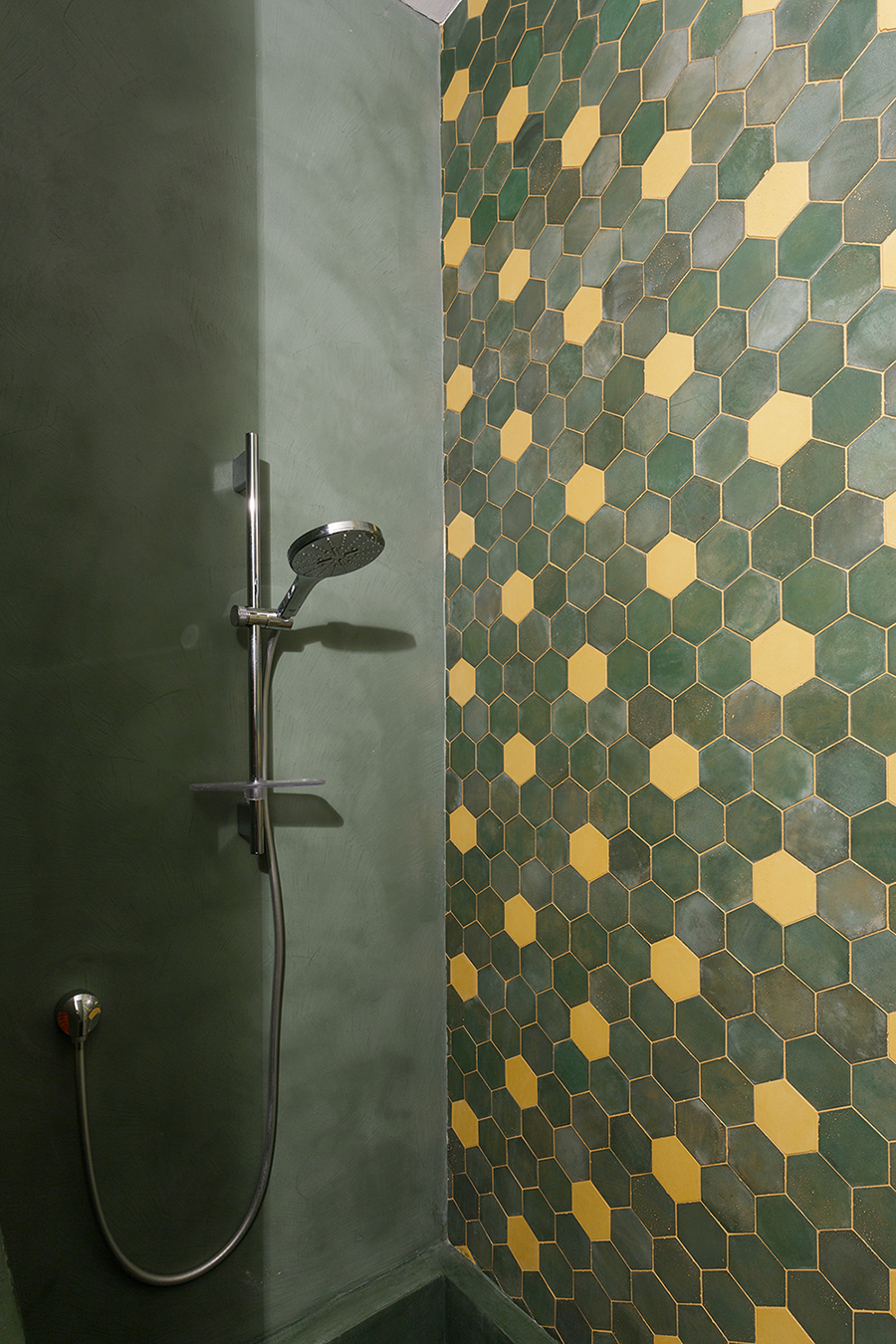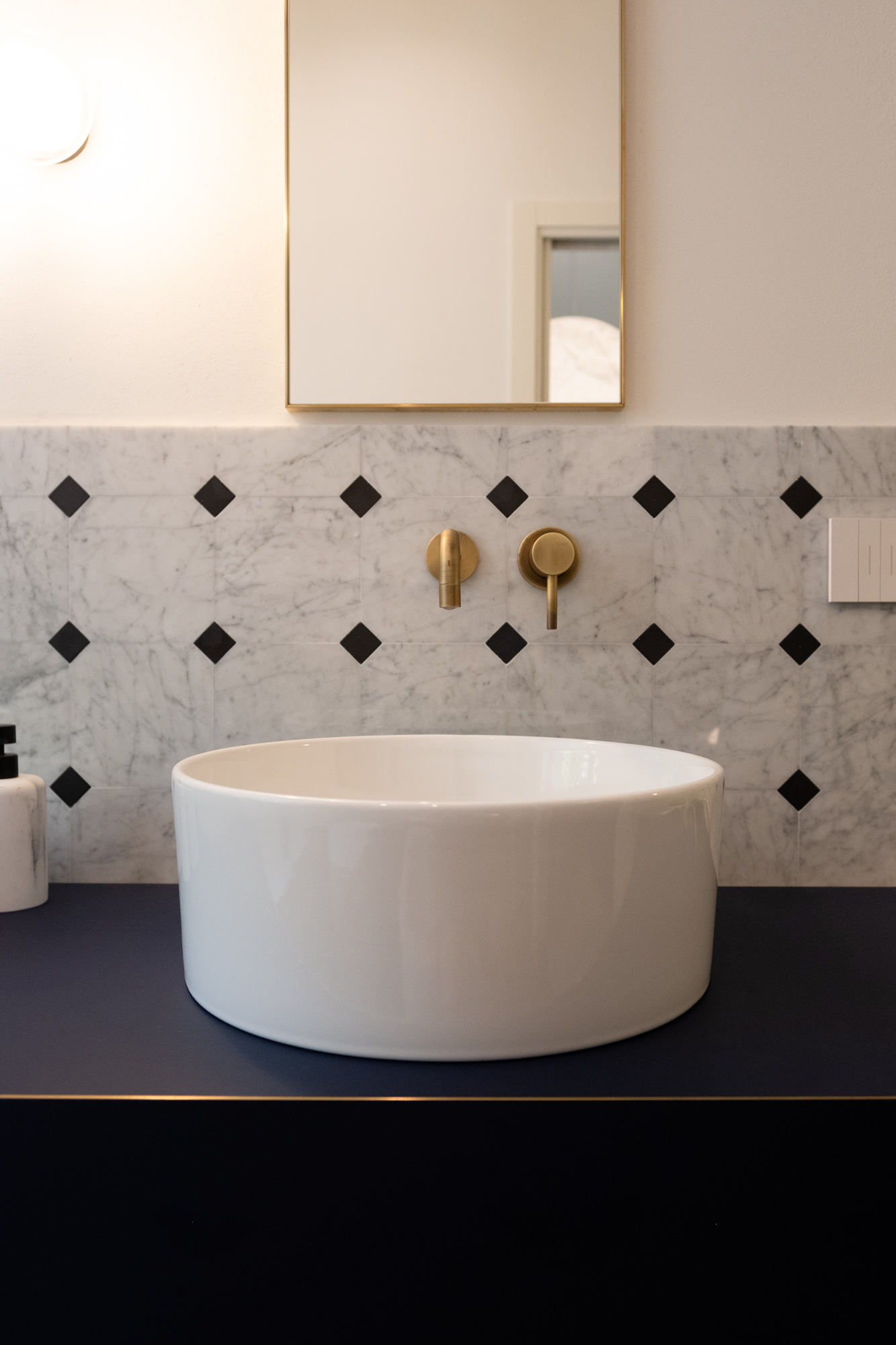 When laying, the joint is of crucial importance to protect the integrity of the material and its durability, and in this case to ensure a long and glorious life for our bathroom.
Traditionally, terracotta has always been laid with a wide joint, nowadays to make the laying and the material more modern and design-oriented, the joint is reduced as much as possible to 1-2 mm.
Concrete has regular edges and in this case the joint depends very much on the designer. You can choose to make it as small as 1-2 mm to simulate its absence, or alternatively you can expand it to play with a colour that contrasts with the material.
Finally, marble is the material that preserves itself best. Also in this case, the edges are regular and traditionally the edges can be matched. You can choose 2 mm.
Each material, with its own characteristics and attributes, needs specific care during both installation and maintenance.
If you would like to discover the sustainable methods and solutions that Fangorosa has developed for each surface, we suggest you read the following articles:
Follow us on our social networks to stay updated on products and events.